In and around the park
The holiday park in the Eifel offers a stay in a stunning natural setting. Take advantage of the numerous offers available at the park: The recreational lake with its sunbathing area (not suitable for swimming), an extensive outdoor and mountain bike program, beach volleyball, and mini golf. Kids and teens have fun in the new studio and the new NXT LVL activity hall - Landal Wirfttal has something for everyone.
Indoor swimming pool with children's pool
Studio and NXT LVL Activity hall
Regional dishes in the brasserie
Recreational lake with pedal boats
Bike rental and mountain bike trails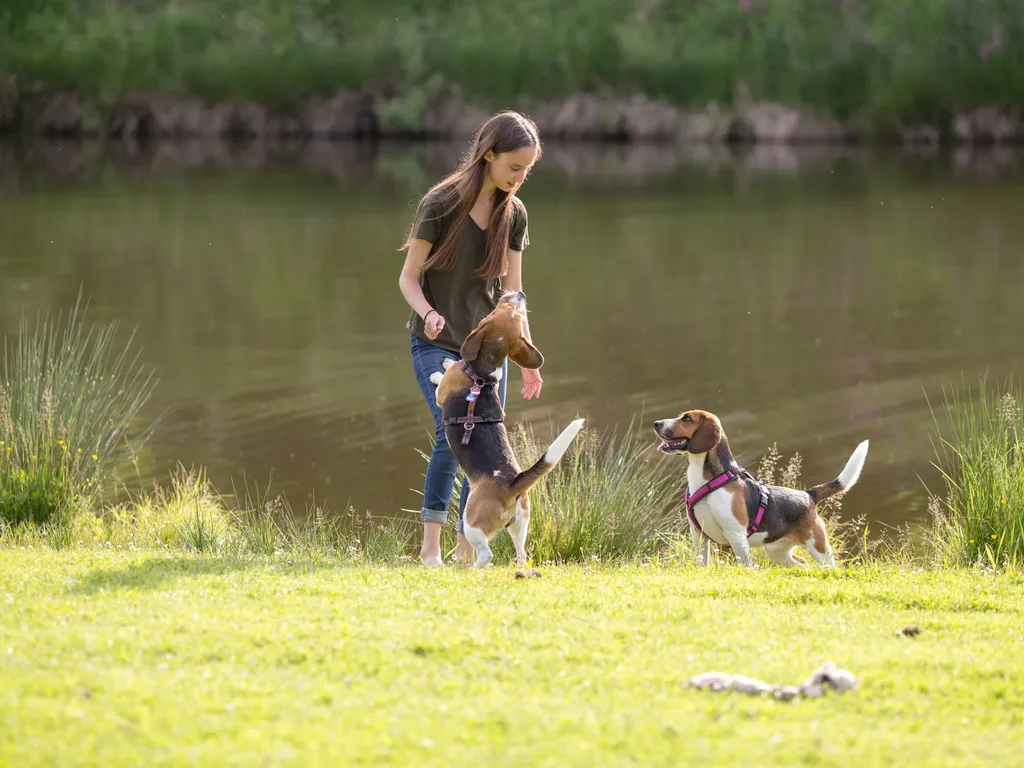 Holiday with dog
Bring your dog on holiday with you to Landal Wirfttal. A dog crate and a plastic dog basket are included in the dog house with a fenced garden. There is also a dog playground, an exercise course, and a dog shower at the park. You and your faithful companion can have the best holiday ever.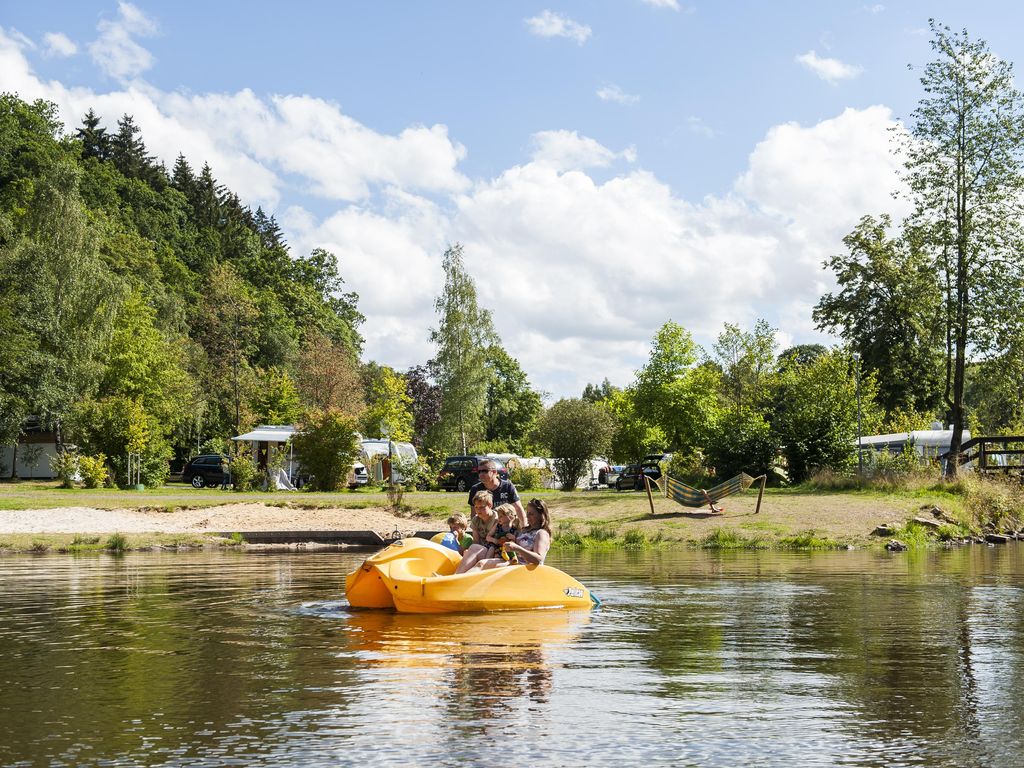 On the recreational lake in a pedal boat
The recreational lake with sunbathing area is located in the heart of our park. Sunbathe, pedal boat, or cast a fishing line. You can enjoy the sunshine with friends and family by playing beach volleyball in the sand. There is plenty of variety for active guests who prefer to spend their holidays outside.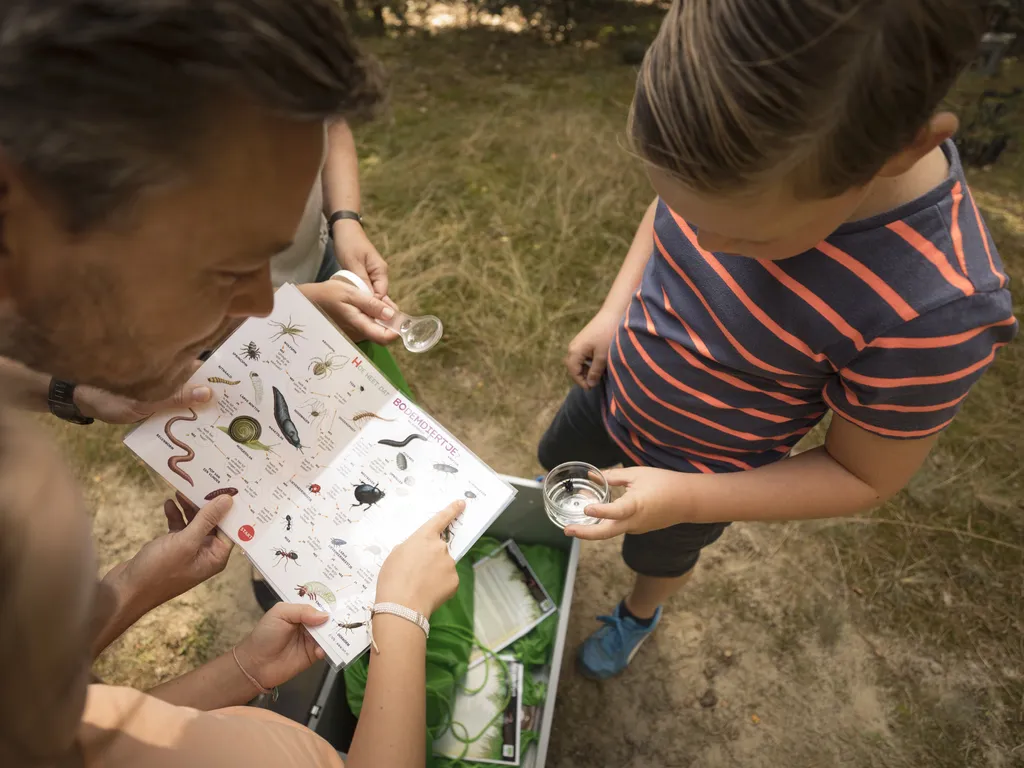 DIY activities
We offer entertaining do-it-yourself activities for the entire family. We have fantastic creative and craft boxes. You could even construct your own birdhouse! With our nature discovery box, you can explore nature for clues or have fun in the park's surroundings.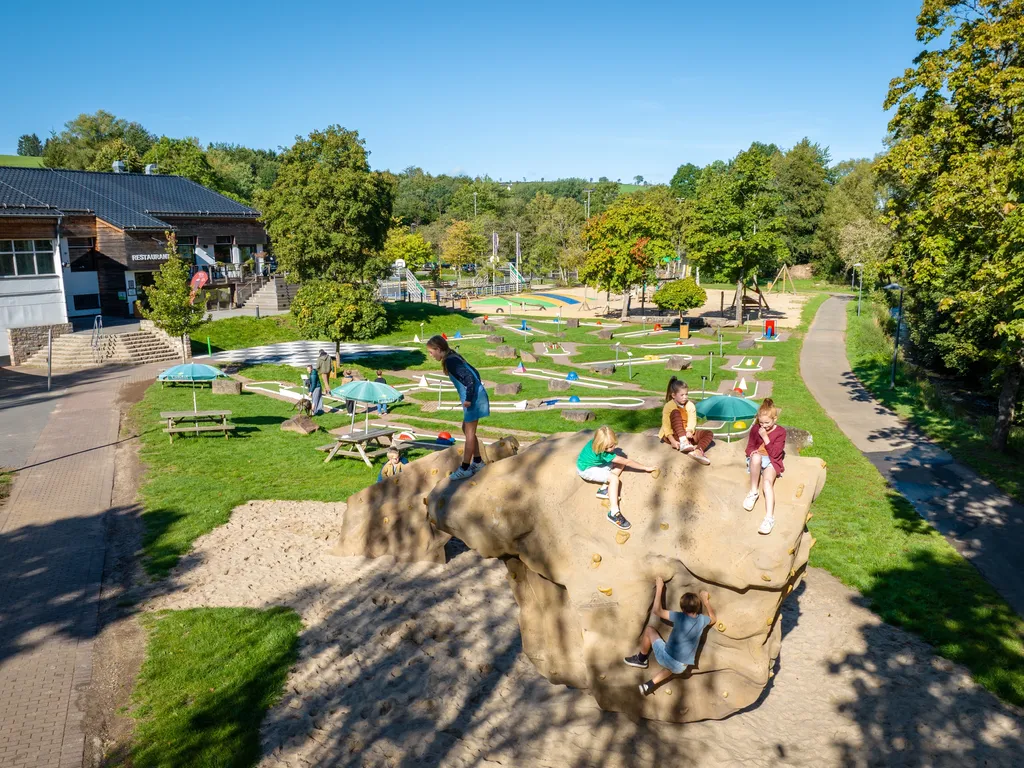 Sports and games
In the activity hall there's plenty of fun to be had for children of all ages! Climb on the new boulder stones, play a game of table tennis, run through the water fountains, jump on the air trampoline and enjoy the numerous new playgrounds in the park. Meanwhile, football tournaments take place on the multifunctional sports field. When the weather is bad, there are handicrafts and crafts available in the studio, as well as a new digital activity hall to explore.
Everything at a glance
Sunbathing lawn
Indoor swimming pool

Indoor swimming pool
Children's pool
Do-it-yourself-activities
Fun & Entertainment programme

During the summer and autumn holidays

Playground(s)
Atelier

Lego and chalkboard wall
Draw Alive: your drawing comes to (digital) life

NXT LVL Activity Hall

Digital room with active games
Listen to music
Shuffle Play
Climbing wall
Bakery
Restaurant
Take away (order via landal-app)
Water fountains (in summer)
Outdoor chessboard (in winter)
Outdoor climbing stones
Air trampoline
Basketball pitch
Beach volleyball pitch
Bicycle rental

Mountain bikes
Bicycles (from April to October)
E-Bikes (from April to October)
Children's bicycles (from April to October)
Bicycle helmets
Go-karts

Mini-golf course
Games/sports field
Sports Arena
Table tennis table
Fishing activities
Football pitch
Pedal boats
Pull raft
Moby playground

Digital game of skill
Alone or in a team
Dog garbage bag dispencer at the park
Dog shower with hot water
Dog track
Dogs' playground
Check the Landal app for useful information
Indispensable before and during your stay