In and around the park
Landal Orveltermark and its surroundings offer a variety of activities for the entire family. Relax and float in the indoor pool's rapids. If you want a challenge, hit a ball at the park's nearby golf course. The Orveltermarke Technical Trail is for the most daring adventurers. Finish the day with a delicious dinner at the park!
Summer fun in the indoor pool and the natural pool
Dine at the Restaurant in the park
Fun & Entertainment all year round
Bicycle rental for the whole family
Play all year round at De Boerderij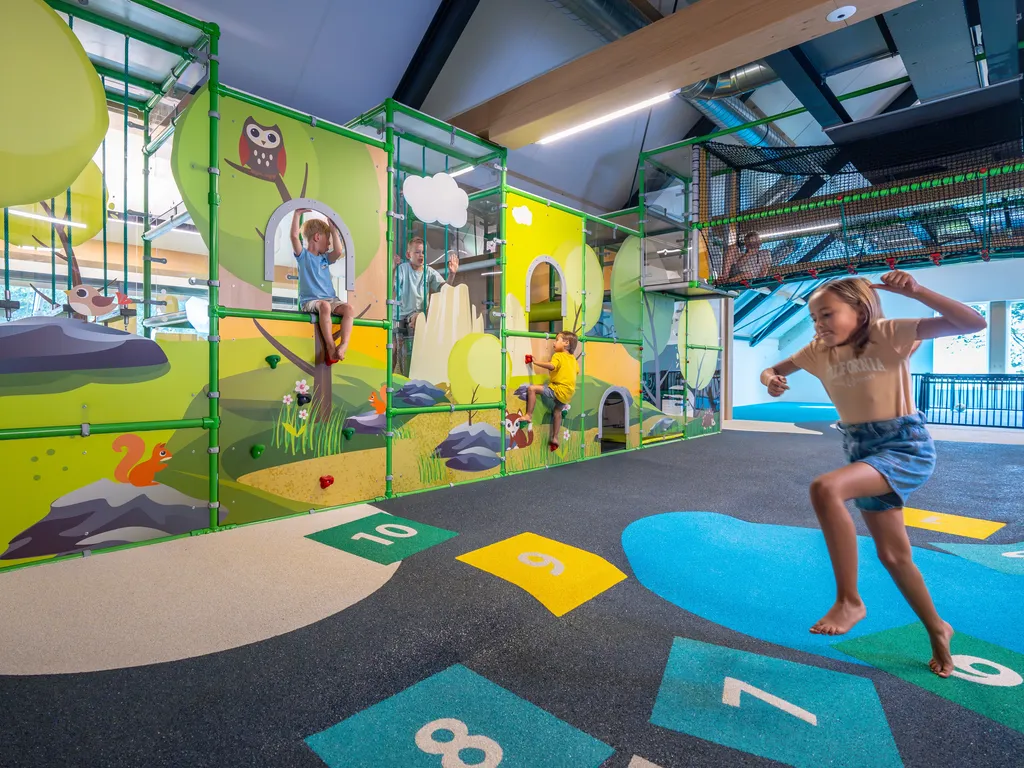 The farm
Brand new at our park is a gigantic indoor play farm. It features a mega play tower, climbing wall, life-sized board games, a bowling alley, panna cage, and a brand new entertainment room, ensuring there's always something to do for visitors of all ages, even when the weather isn't cooperating.
The Orveltermarke Technical Trail
Do you fancy a sporting challenge? The Orveltermarke Technical Trail is a one-kilometer-long circuit with bumps, bends, and other technical challenges. The circuit is suitable for BMX bikes, mountain bikes, and stunt scooters in dry weather. Will you be the quickest?
OERRR nature play
What could be better than spending time together outside doing activities? Whether you want to build your own boat, haul tree trunks, learn to tie knots like a real scout, or bake bread over a campfire. Everything is possible at the OERRR nature play area. Discover the adventures here!
Unwind in the natural pool
Hidden in the wide nature of Drenthe is Landal Orveltermarke's natural pool. It is a lot of fun here in the summer months. Jump into the naturally purified water to cool off and relax, or sunbathe on the lawn. You will have all the space you need to relax!
Rent a bicycle
The Drentse Hooglanden are waiting to be explored. Step right into nature from your accommodation. Go out together and cycle across the heath or to beautiful cities in the area. The park is adjacent to the forests of Sleenerzand, Schoonloo and Gees. It is also close to the Drentse Aa National Park. Rent the bicycles you need at the park. Are you ready to go out into nature?
Everything at a glance
Outdoor shower
Sun terrace
Natural swimming lake
Indoor swimming pool

Water-jet bench
Children's slide
Paddling pool
Family slide
Rapids
Indoor play farm
Air trampoline
Ball pool
Bollo
Bollo house
Fun & Entertainment programme
Indoor children's playground
Adventure island
Playground(s)
Search
Water games area
Brasserie
Snack bar
Supermarket
Grocery package large
Grocery package small
Bread roll service
Gourmet package
Pizzaria
Eating-out package
Air hockey
Bike rental

Tandem bikes
Bicycles
E-bikes (seasonal)
Trikes
Go-karts
Child seats
Child carts
Children's bicycles
Cabbies
Step
Mountain bikes

Jeu-de-boules playing area
Multi-sport playing field
Nature trail
Pitch & Putt golf course
Pool table
Games/sports field
Games rental
Table tennis table
Technical Trail
Watchtower
Table football