In and around the park
Play together and eat together The Adventure park with a terrace at the adjacent Brasserie is the perfect solution for kids and parents. The swimming pool is also a favourite for the whole family. Enjoy adventures with the whole family at Landal Heideheuvel, both at the park and in the region. Bike or walk through beautiful nature at the Veluwe.
Indoor swimming pool
Hours of outdoor play fun in the Adventure park
Renovated Brasserie, snack bar and ParkShop
Activities for all ages
Did you know Bollo lives in his own little house at the park? Bollo is every kid's best friend! Visit him for a high-five or and have your picture taken with Bollo. You will encounter this sweet bear everywhere in the park. The Fun & Entertainment team is ready for you all year round and organises the best activities. From crafts to a scavenger hunt in the forest. Check the Landal app two weeks before your arrival to see the full programme.
Cycling at the Veluwe
Rent a bike via the Landal app or bring your own bike on holiday. The region around Landal Heideheuvel offers beautiful bike routes through spectacular nature. Here you are at the Veluwe, one of the most beautiful nature areas in The Netherlands. Plan your own route with the well-marked trails and explore! Walkers will also find lots to discover in the forests and heathlands of Loenermark, for example.
Together with your dog
Your dog is very welcome at Landal Heideheuvel. In addition to dog-friendly bungalows and walking trails, the park offers other facilities for dogs. Such as a dog shower to rinse off your pet. And did you know that your dog is also welcome in the front area of the brasserie. No need to leave your dog at home!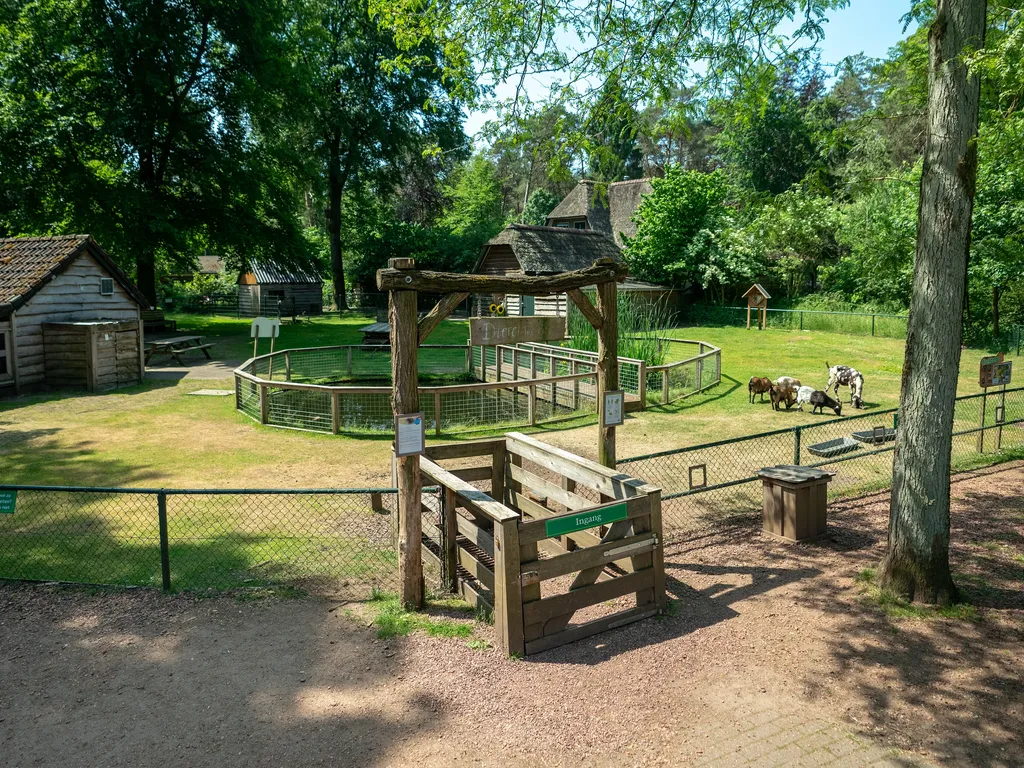 Animal Pasture
Put on your dungarees and rubber boots to explore our animal pasture. Once through the gates, you will find yourself surrounded by goats. Can you climb and clamber across the stones as well as they can? Discover it now!
Sports & Games
Time for action! On the (table) tennis court for example. Or would you like to try your hand at archery? Play an outside round of Adventure Golf. And what if the weather isn't nice? Then it's time for an afternoon of bowling. A number of playing fields and sports courts offer a variety of sports and games. From basketball to volleyball. Fun for the whole family or with your peers. As you can see, there is lots to do!
Everything at a glance
Indoor swimming pool

Paddling pool
Children's slide
Air trampoline
Atelier
Adventure Castle
Bollo
Animal meadow
Fun & Entertainment programme
Kids & Running Track
Playground(s)
Brasserie
Parkshop
Snackbar
Adventure Golf
Barefoot path
Archery Range
Bowling alleys
Bike rental

Buggies
Parent-child tandems
E-bikes
Tandem bikes
Bicycles
Child seats
Child carts
Children's bicycles
Mountain bikes

Multi-sport playing field
Games/sports field
Table tennis tables
Tennis court